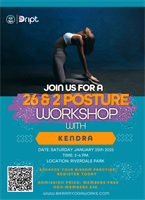 Sun
Date:

Jan 09 2022
From:

9:00 AM

-

3:00 PM
Take your practice to the next level with an introduction to the foundation and technique of practicing Bikram Yoga.
This in depth discussion and interactive experience will address (1) common obstacles to proper alignment and (2) how to approach each posture safely.
You are welcome to bring any questions, concerns, and/or suggestions about the correct technique, form, and benefits of each posture. This will create an open dialogue to help clarify and expand your overall practice.
This 26 & 2 Posture Workshop will be held at our Riverdale Maryland location.
Sunday January 9th & Sunday January 16th, 2022
From 9am-3pm
The room will be heated to a warm 95 degrees to allow you to implement new strategies in the postures without the full rigor of the standard class. Remember, no special skills are required, just a desire to better understand how your body relates to Bikram Yoga in order to reach your wellness goals.
Free for Members
$35 for Non-Members